The Unbreakable Brain
I put everything I know about dementia and brain health into an 121-page book called THE UNBREAKABLE BRAIN. Read this book from cover to cover and you will know exactly how to shield your brain from cognitive decline …*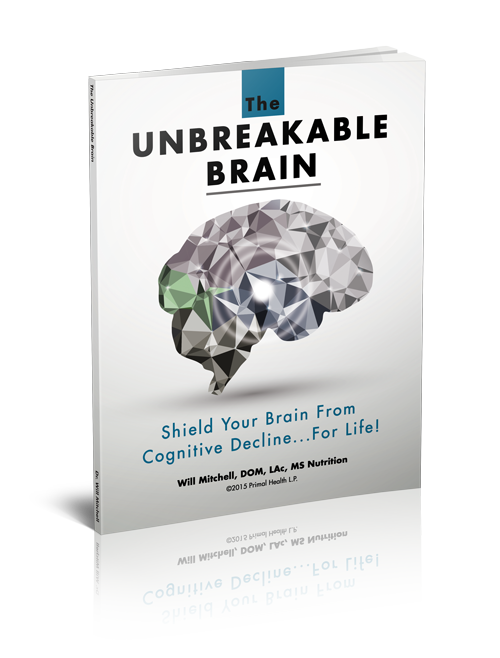 You'll Discover
You will no longer fear the occasional "senior moment". No mumbo-jumbo … just straightforward advice from a health professional who has spent many years researching dementia and brain health.
What Drugs to Avoid

13 prescription drugs that can negatively impact brain health … your doctor has probably prescribed one.

Know Your Brain's Condition

3 simple tests you can take right now to see if you have dementia – or if you're at risk of developing.

Brain Exercise

The one type of exercise that stimulates the growth of brain cells and neural pathways.
Beneficial B vitamin

Discover the one B vitamin associated with a slowing of brain atrophy … and improved all-around memory.

A 28-day Plan for Brain Health

Adopt these simple 7 strategies in the next 4 weeks to re-take your brain and fight dementia.*


Powerful Antioxidants

Learn how to include L-theanine, tyrosine, L-Carnitine, and CoQ10 in your daily diet for optimal health.
FOUR FREE BONUS GIFTS
19 Ways Sleep Deprivation Ruins Your Health and Brainpower – and 10 Ways to Regain Your Sleep.

First Gift

19 serious health issues – including dementia – connected to lack of sleep (and the surprising factors that lead to poor sleep).

How to Stop Nine Memory Thieves From Robbing You of Your Recall.



Second Gift

Learn about these 9 "sneaky" factors that lead to poor memory and how to avoid them.



56 Super-Foods That Boost Your Brain Power (You Won't Want to Miss These!).



Third Gift

A lot of these foods help with the production of dopamine – which helps with sleep and the efficient use of neurotransmitters.



20 Brain Boosting Recipes (That You'll be Happy to Know are also Delicious!).



Fourth Gift

Find out how to enjoy a rich, delicious, and varied diet that will boost your brain power